River Cleaning Movement
In the birth place of Saint Gyaneshwarji Maharaj – Alandi (Pune), along with the cleaning drive of river Alandi a virtuous task of revival of 52 Antiquary kunds is going on. They are made free of Pollution and Encroachment. Thru this, an effort is made to restore our Natural Heritages. Similar Cleaning drive is going on river Indrayani as well from past 7 years. In the year 2010 Gayatri Pariwar Pune took a resolution to cleanse river Indrayani. Under the Environment Protection movement various program of mass awakening are carried out along with River cleaning drive. It includes cleaning and wall writing on major squares of the city, Pamphlet distribution, seminars by enlightened citizens, etc.
Local Dignitaries, Religious and Social institutions are also extending their support to Gayatri Pariwar in fulfilling these noble initiatives (Satsankalps). Local residents and Shopkeepers have also pledged to guide the pilgrims to keep the surroundings cleans and not throw anything in the river. All these efforts and initiatives have shown exemplary results in the form of unsoiled quarries and kunds. Work of revival of river Ram is also going along.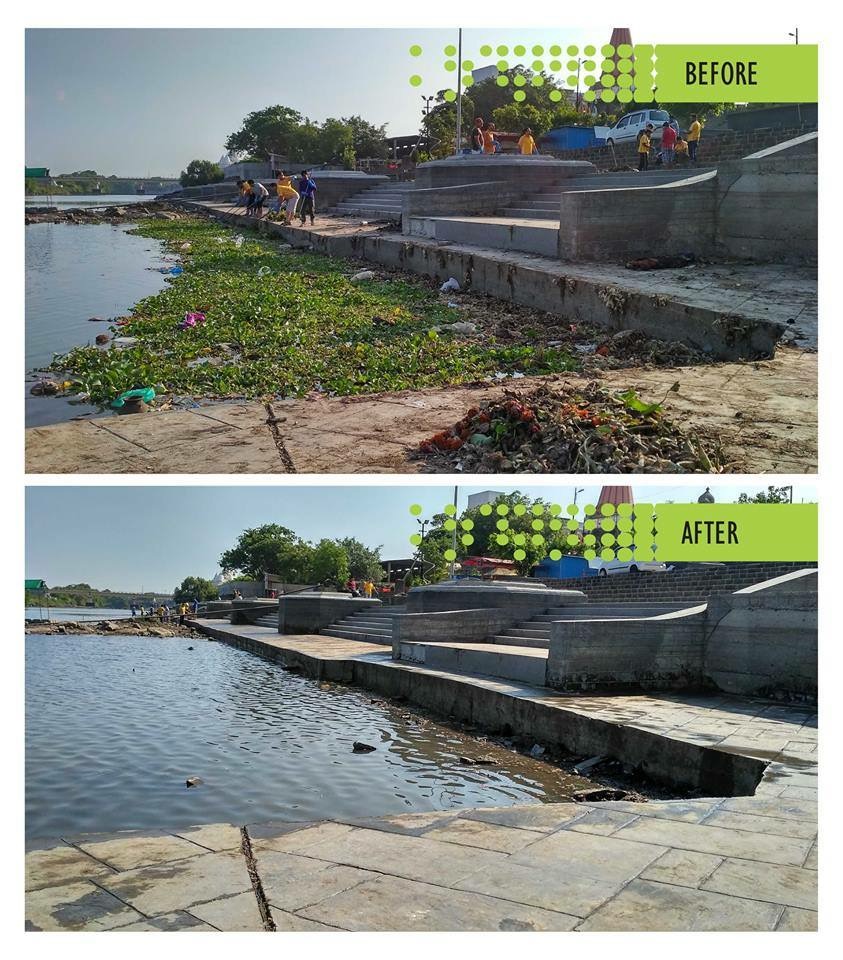 Environment
Under the Vraksha Ganga Abhiyan, Gayatri Pariwar Pune along with institution "Vasundhra Sanjivani Abhiyan" are consistently working in the field of Tree Plantation and Arboriculture from past 12 years. Tree Plantations are done based on various concepts like Nakshtravan, Rashivan, Navgrahvan, 21 Ganeshpatrivan, 108 Vanaspati Udhyan, etc. With the means of these models, people are taught the importance of Ayurvedic herbs and plants related to their zodiac signs.
Such Plants are chosen in the plantation which are useful for living beings as well as environment.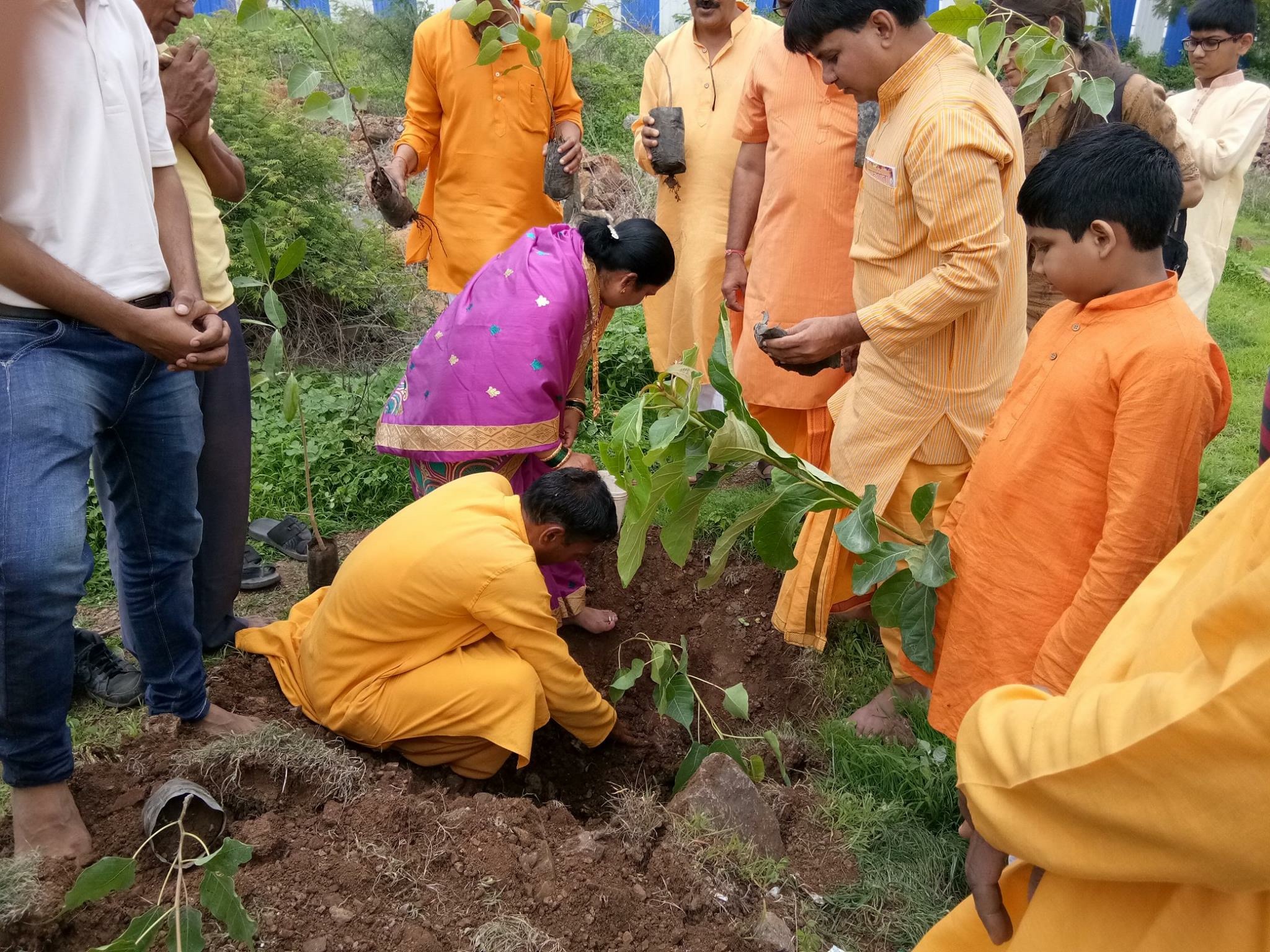 Revamping water sources
While 70 per cent of the Earth is covered by water, it is still considered a precious resource because only a minuscule three per cent of the planet has freshwater resources, less than one per cent of the total water on Earth is considered fit for use and even little amount is safe for human use. Therefore, it is important to conserve and revamp water to stabilise the future. Gayatri Pariwar Pune drives such very crucial programs to revamp the water sources at various part of the country. Gayatri Pariwar Pune has been continuously working on the auspicious bank or river Indrayani along with the local villagers and other supportive NGOs with essence to clean the river and its surroundings and promotes the cause by small skits and awareness to the local public and regular devotees. We have also been working with other social groups like Sagar Mitra and Vasundhra to revitalize the water sources, cleaning the wells and natural outlets for the benefit of the society.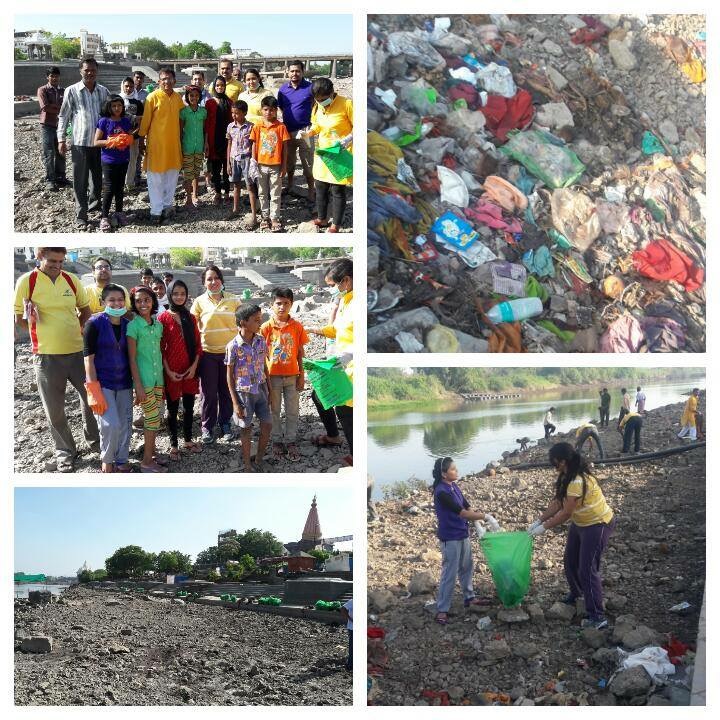 Education to underprivileged
Gayatri Pariwar Pune imminently believes education is the fundamental right of each and every Child. To shape our belief into reality and we desperately work towards the accomplishment of the right to education in society.
We work as a catalyst to spread the importance of education and pervade the possible benefits to the underprivileged children of the society. There are heaps of children who are kept apart from basic education therefore Gayatri Pariwar Pune incessantly approaches to orphanages, Villages, Labor Chawls, Basti and many such community or group of people to inquire and understand the requirements to organize periodic sessions and basic education to the children, share our best practices to boost their morale and help them to soar up their virtues to the level where they become comfortable to choose their Career aspirations and pursue their career objectives.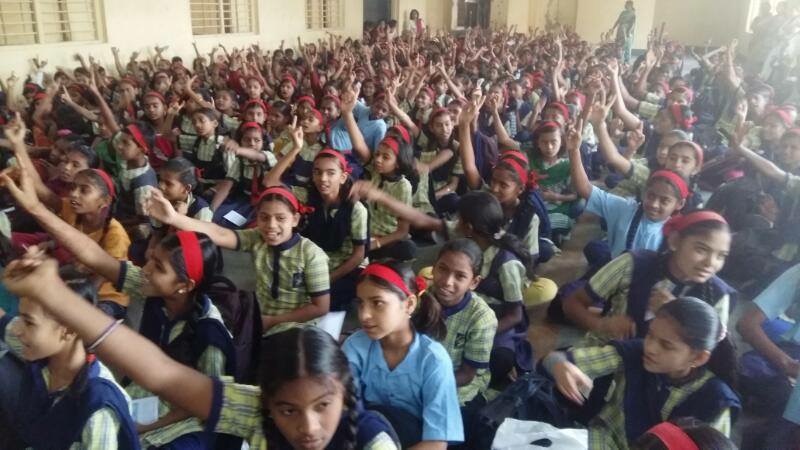 Book Exhibition
As like healthy and hygienic food are required by the body symmetrically healthy thoughts, proper guidance, and legitimate ushering are also intended for our mind to prosper. Our mind is like a barren land you reap what we sow. Therefore It requires nurturing by proper irrigation of thoughts and pious seeds of great literature and right knowledge.
At Gayatri Pariwar Pune we believe in the importance of literature and thought provoking books. Books are the only best friends of a person to show the righteous path ALWAYS. Today's world where thought process of mankind is ablaze with all petrified radicals around. We immensely realize the importance of such books to guide towards righteousness to understand the importance of Self Development, Family development and Social upliftment. Our great Guruji Pt Shriram Sharma Acharyaji has impeccably served humanity with his 3200 books. These books consists a detailed thesis on almost all the topics a person can search for and to make it easily available to everyone Gayatri Pariwar Pune organizes Book exhibitions and Book Stalls with most of the books available at really minimal rate of less than rupees 10. Our motive is to enrich the humans with diligent and wise to inundate him with the ideologies of Self-development, family development and Social development.
Clothes Donation
Donation has always been one of core objective of Gayatri Pariwar. Donations can be context as Donation of time, skill, money or kind to serve the society and the needy. Gayatri Pariwar has extensively been contributing in almost all kinds of donation. Clothes donation is one of the continuous activities perpetrated by us. Gayatri Pariwar Pune proudly celebrates every New Year delighting the needy people by providing clothes, blankets and apparels. Every winter we distribute clothes to the workers and their families, Orphanages, alimony survivors and genuine beggars and help them stand strong in the winter.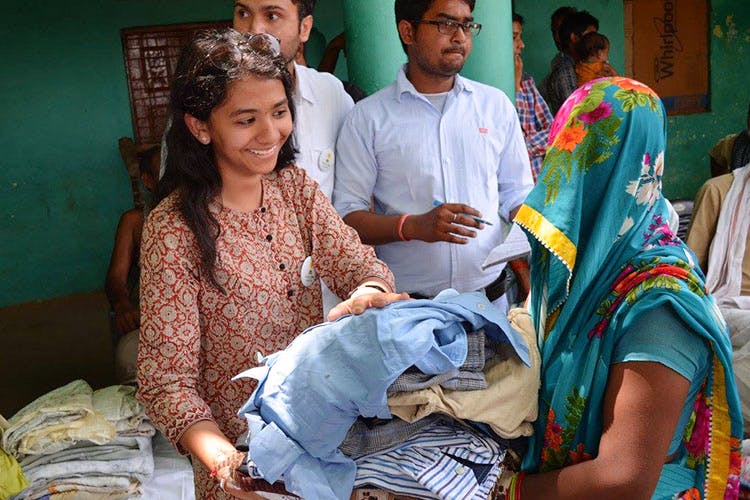 Health Camps
We have conducting multiple Free Health Checkup and Various Blood Donation Camps organized by Gayatri Pariwar with Agrawal Group across the Pune Zone. We distributed free medicine, Spectacle for the needy people and arranging the plastic surgeries. We are in touch with Sasoon Hospital for heath activities.
Organized training for Yoga-asana, Pranayama and Meditation and mental therapy all over the Pune Zone.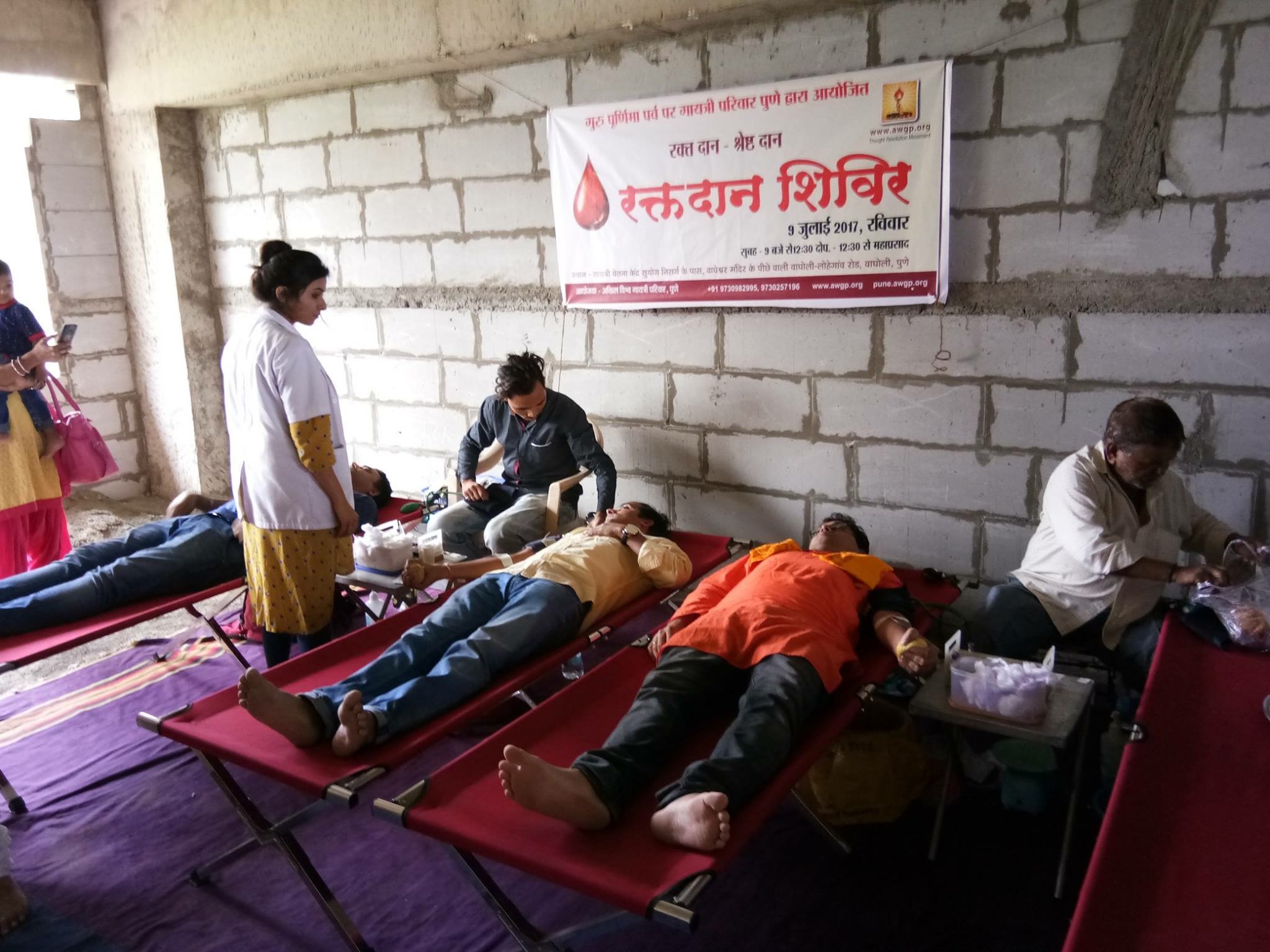 De-Addiction Drives
Addiction has widely incarcerated most of the denizens of this blue planet. Apparently countries all over the world are struggling with the addiction to Alcohol, drugs, tobacco, Cigarettes and many such petrifying intoxicated substances. People have a perception if they once get addict to these cannot get rid of it. However one just needs a strong will power and can discontinue these radicals ruining his life and family.
Gayatri Pariwar Pune thinks this loss is suffered not only by the individual person rather it is a compounded loss of the society as a whole therefore Gayatri Pariwar Pune provides extensive support to needy and acts as a catalyst and provides personal support through various Deaddiction programs such as Nasha mukti rallies, Nasha mukt andolan, awareness through posters and slogans. We also provide personal counselling to the needy from our specialists. Several Schools, Colleges and NGOs are proudly working with us to arrange such programs for the betterment and purification of the society.